Our Data Portrait.

A workshop in data visualization
Theo Thijssenschool Art Weeks

Workshops with four- and five-year olds in collaborative data collection, categorization and visualization.

We had the chance to experiment with appropriate forms attuned to and developed in collaboration with a particular public: 4- and 5-year old children from the Theo Thijssenschool in Amsterdam during their Art Weeks (Kunstweken)

We wanted to experiment with the use of well-known visual materials to create a portrait made of the children's collaboratively generated, visualized, and interpreted data.

We organized a series of two short (45-minute) workshops around this concept called building a data portrait. It is important to realize here that we set out to work with children who were at an age where they could not read or write yet. Also, these children could have a short attention span and yet be highly creative, perceptive, imaginative, and competitive.


A.
data collection: What's in your backpack?
The visualization that was the most exciting for the group was appropriated directly from an item on the tech news website, The Verge. The item on The Verge is called What's in Your Bag? In its simple format, people are asked to show the contents of their bag and explain what is there and why.

In the workshops, we wanted to give the children a chance to showcase their own things that they brought to school and then use those objects to build an aggregate collection for them to sort and visualize together.

In playing What is in your backpack? the first step was to ask the children to empty their backpacks and photograph and explain all the contents to the other participants. Some children were shown to be real minimalists, bringing to school only a lunchbox, a water bottle, and a pair of gloves, while others carried an enormous collection of found objects with.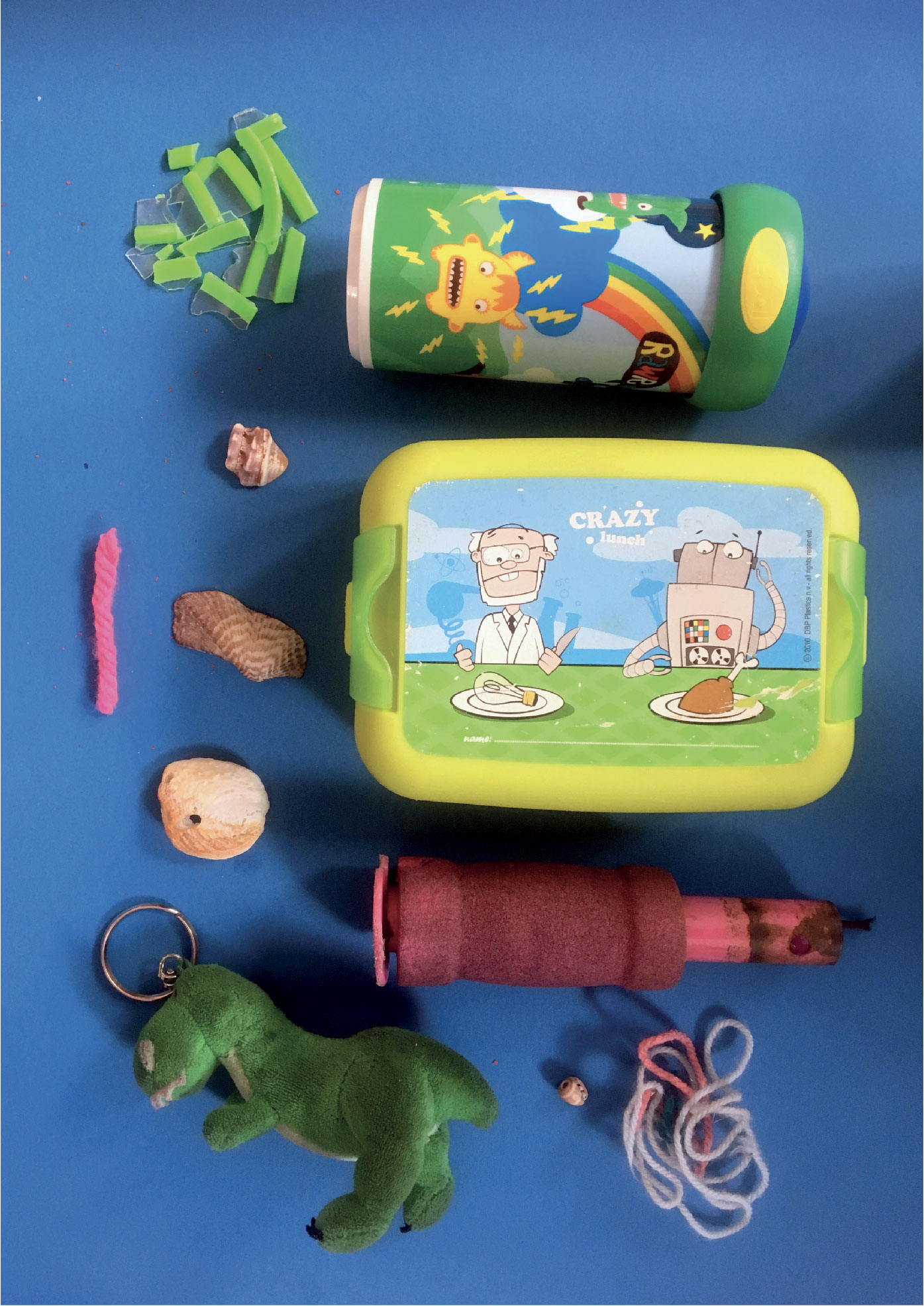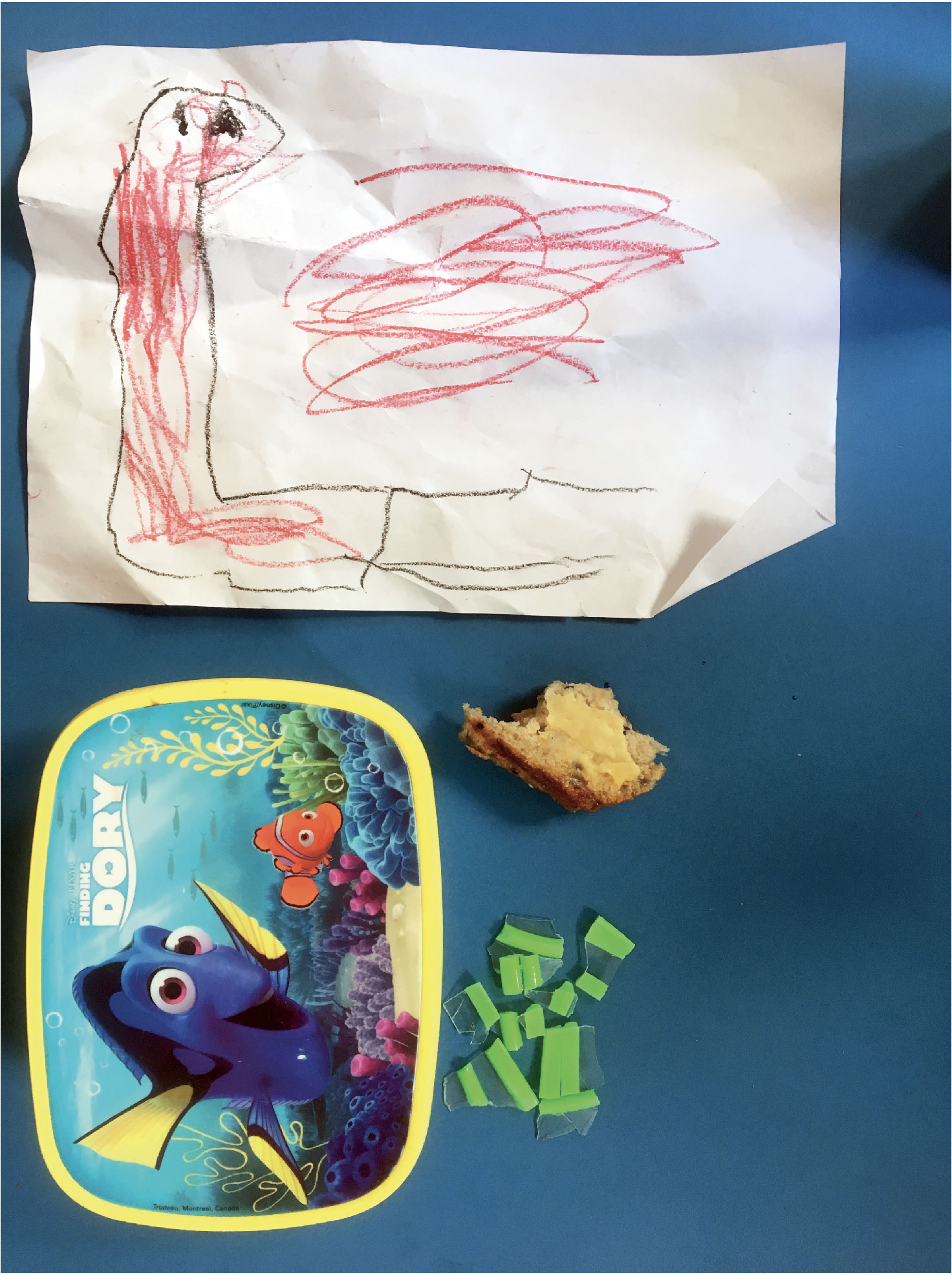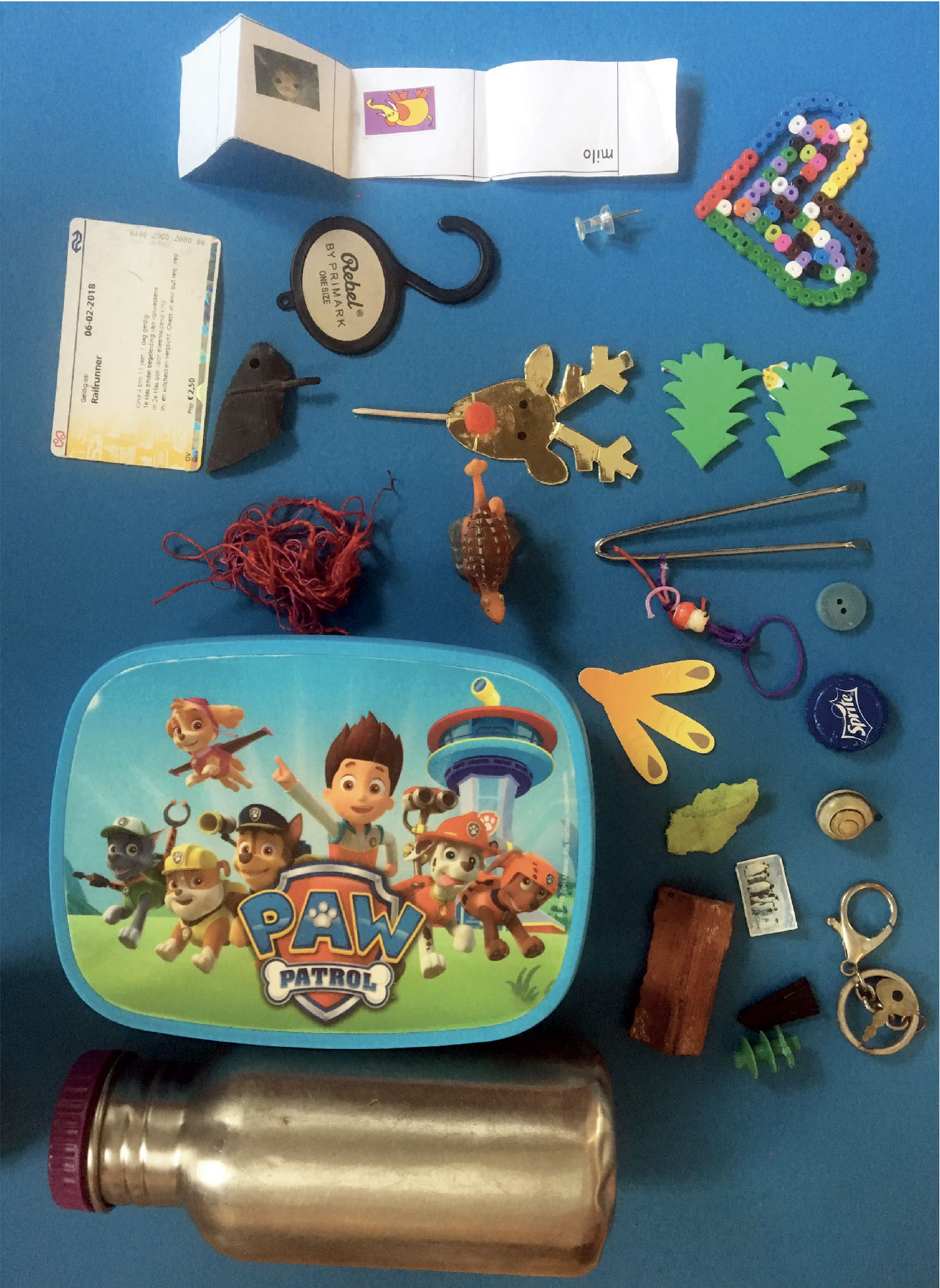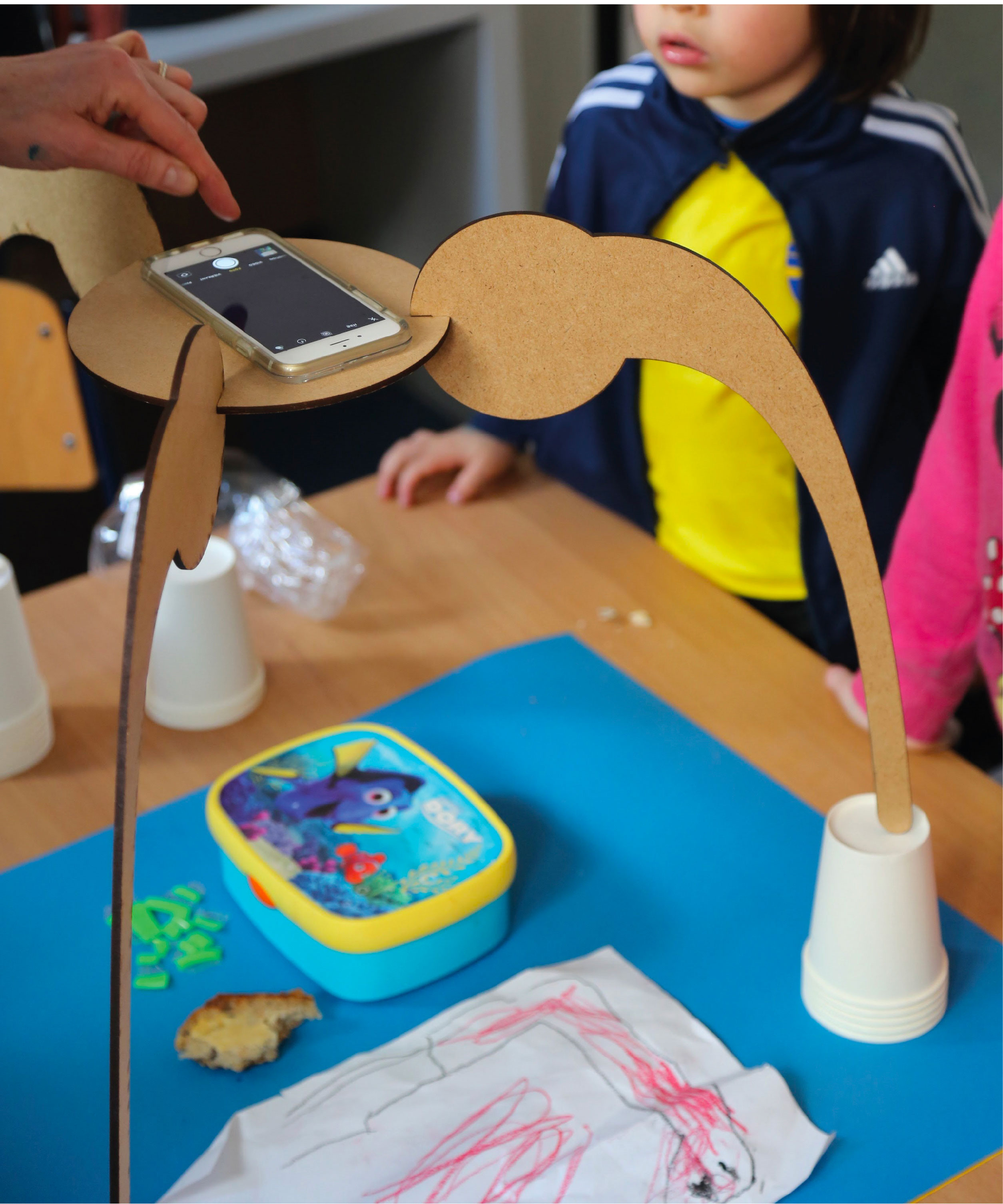 Step two was to print the photographs, cut out all the separate items, and discuss how the aggregated collection of what they had brought should be sorted and organized by placing them on a large sheet of paper. Some categories were easy to come up with: lunch boxes, water bottles, sticks and other natural materials. But then it became more difficult. The category of "useful objects" and that considered to be "broken things" turned out to be highly subjective.

One participant (a 4 year old boy) insisted that one of the items in his backpack was a "dinosaur lighter" and it belonged to the "useful objects" category. Others disagreed, recognizing it as a piece of a bicycle handlebars which should be placed in the "broken things" category instead. After a long discussion, the children chose to add a miscellaneous category that contained only the handlebar-lighter.

To conclude this visualization exercise, the children received a red dot sticker that they used to vote for the object they wished they had in their own backpacks. As they had worked with all of the objects so closely, presenting them as part of personal collections and subsequently aggregating them and then discussing their coding, they knew exactly what their favourites were.


B.
data curation, categorization and collective discussion

From a researcher's perspective, it was very interesting to witness four- and five- year olds engaging in an emergent coding discussion and together finding a solution and a shared understanding. Through this exercise, the children not only got to know each other better by talking about why they did or did not have certain objects in their backpacks. They also learned to present a personal collection, create an aggregate collection, discuss the metadata they could give to objects, and develop a way to discuss and deal with multiple "coders" reading different meanings into the same objects. Furthermore, it was striking to see how the familiar objects taken from the children's own context (taking animal figurines, hammer and nails, clay and other materials that used in preschool) allowed these children to create visualizations they could read and remember with ease. And finally, last but not least, they had a lot of fun doing it.


C.
data visualization - exercise n.1
" animal questionnaire"


We found that it was crucial to include the children in the formulating of the questions. For instance, when they introduced the idea of an animal questionnaire, we (the adult researchers) could think of questions such as: which animals would you like to feed, and which animal would you like as your pet? The toddlers liked this idea a lot, and were keen to include questions such as: Which animal would you like to ride? and: which animal would you like to teach some tricks?, questions that definitely lead to more engagement in the discussions among these young participants during the workshops. For the visualization, we used animal figurines, and assigned to each question a particular Hammer and Nails shape which they could use to vote with by attaching it to the pegboard below the animal of choice.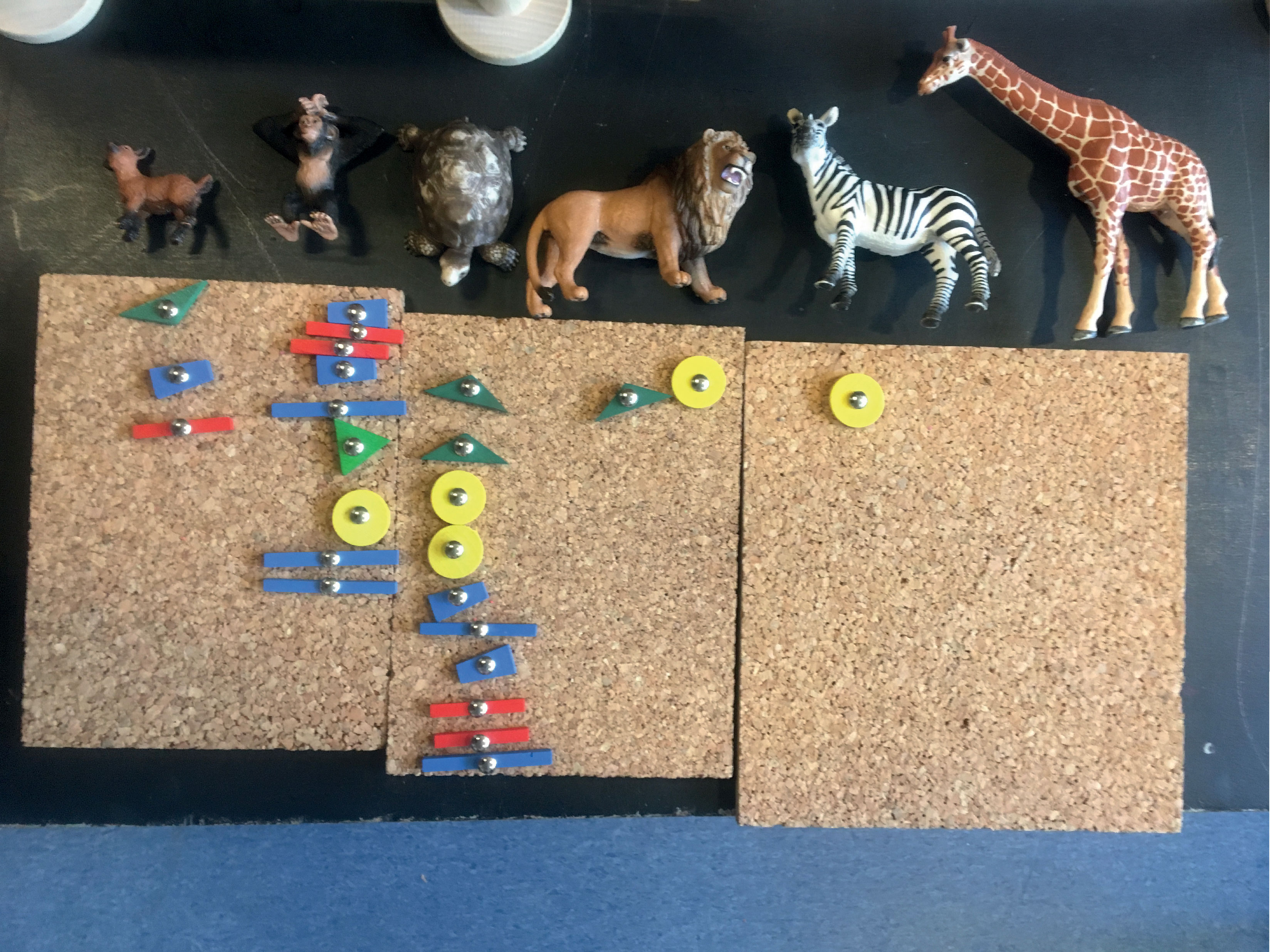 D.
data visualization - exercise n.2:
"vote for your favourite colour"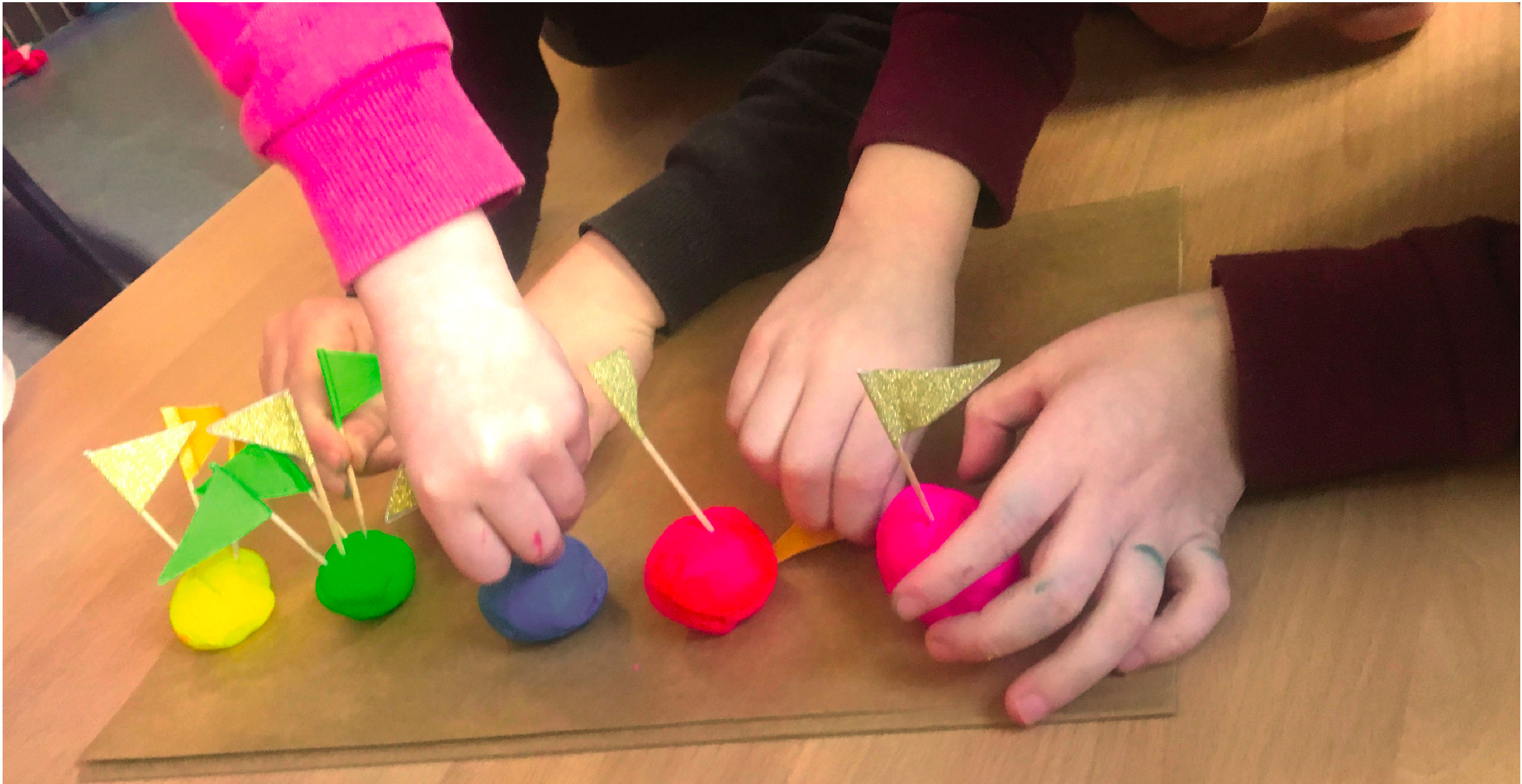 E.
data visualization - exercise n.3:
"mini portraits collage"



For another visualization, we used the 3D collage by the visual artist Chatchanok Wongvachara, as our format. Here, the participants were asked to sort mini-portraits of themselves according to their height, hair color and age, and present the results by clipping their portraits onto a line of rope in what they considered to be the correct order. This exercise sometimes asked for some very up-close inspection, for instance to establish whose hair was in fact the darkest brown, which lead to quite some exhilaration and, again discussion and decision-making.




We also found that the children were remarkably good at both creating and reading the visualizations and remembering the visual language they had developed.
A week after the final workshop, the results were exhibited, an the children still remembered effortlessly which shape belonged to which question, and they also knew what they and the others had voted for.

The kids considered a lot of fun to create all the visualizations, heavily discussed the outcomes between each other while creating them, and were able to read and explain them to their peers and family members during the exhibition.



Sabine Niederer
Federica Bardelli
Carlo de Gaetano
Esther Weltevrede

And a special thanks to the children of Theo Thijssenschool Amsterdam